Cold War Again.
Nato gang rapes Middle East,
genocides Iraq,
eyes the same war for Russia, China.
Russia nuclear bombers flying again by California, Alaska.
Russia targets US military installations.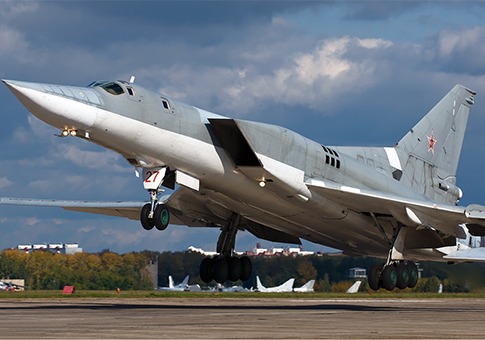 Simulations may indicate Moscow has targeted its offensive ballistic missiles on Japan or U.S. military bases in the region.
Russian bomber recently carried out simulated cruise missile attacks on U.S. missile defenses in Asia, raising new questions about Moscow's goal in future U.S.-Russian defense talks
According to U.S. officials, a Russian Tu-22M Backfire bomber on Feb. 26 2013 simulated firing air-launched cruise missiles at an Aegis ship deployed near Japan as part of U.S. missile defenses.
A second mock attack was conducted Feb. 27 2013 against a ground-based missile defense site in Japan that officials did not identify further
The bomber targeting comes as Russia is building up forces in the Pacific by modernizing submarines and building a spy ship specifically for intelligence-gathering against U.S. missile defenses.
U.S. missile defenses in Asia currently are at a heightened alert status as a result of tensions with North Korea. The communist state has threatened to conduct nuclear missile attacks on the United States and South Korea.
"Russia continues to conduct aggressive offensive missile training in the Pacif
ic against U.S. and Allied Forces,"
Russians in the past have said their opposition to missile defense was not limited to Europe but included global missile defense deployments
The bomber targeting of U.S. missile defenses also followed stepped up Russian bomber activities targeting other U.S. missile defense sites, including ground-based interceptors in Alaska and California.
A large-scale Russian military exercise in the Arctic in June 2012 included flights by two Tu-95 Bear bombers that Russian military officials said had simulated attacks on U.S. missile defenses in Alaska.
Another pair of Tu-95s flew on July 4 2012 the closest to the California coast that a Russian bomber had flown since the days of the Soviet Union, when strategic bomber flights near U.S. coasts were a routine feature of the Cold War.
Moscow's GRU military intelligence announced April 1 2013 that it would deploy a new reconnaissance ship Yuri Ivanov in the Pacific to spy on U.S. missile defenses in Alaska and Hawaii.
Late last year 2012 a Russian general threatened preemptive attacks on U.S. missile defense sites in Europe in any future crisis.
Former chief of the Russian General Staff Gen. Yuri Baluyevsky told a conference earlier this week April 2013 in Moscow that the United States has not abandoned strategic plans for preventive nuclear strikes on both Russia and China.
Baluyevsky said U.S. missile defenses are designed to prevent attacks after a U.S. first-strike nuclear attack, Interfax AVN reported April 2, 2013.
Former Russi
an Strategic Rocket Forces commander Col. Gen. Victor Yesin at the same conference said Russian offensive missiles would be able to overcome any U.S. missile defense system.
Russian bomber practices strikes on US missile defense | Washington Free Beacon
drudgereport.com:
PAPER: Fears NKorea could trigger nuclear strike next WEDNESDAY...
Loads missiles onto launchers...
ALL embassies told to evacuate staff from Pyongyang...